FlashDealer.Com Sells Custom Jump Drives
By Publisher
Monday, July 13, 2009 at 02:00 PM
While looking for a creative way to promote my business, I found a company that offers a custom jump drive that can be personalized in a variety of cool designs.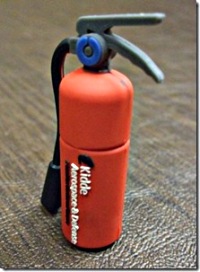 FlashDealer.com sells custom flash drives that can be preloaded with data such as a Microsoft Powerpoint presentation, web site or software and decorated with a company logo and other graphics. I'm thinking about putting a web browser and some other popular open source software on one of these drives and setting the default home page and other preferences to my web site. Users who install the software will already be set up to visit my site.
One of the things that got my attention back when I was working as a newspaper reporter was cool swag that livened up a press release. The media gets PR sent to them all the time, and 99 percent of it goes straight to the trashcan without being read. Flash drives are so handy I've kept them around for years -- Google sent me one more than five years ago that I'm still using today.
FlashDealer.com can design the flash drives to have custom shapes, making them look like candy bars, beer bottles, delivery trucks or even fire extinguishers -- a promotion the company produced for Kidde Aerospace and Defense.
The drives come in more than 20 different styles and employ the USB 2.0 interface. The pricing is as low as $3.99 -- depending on how big the order is -- and it takes 10 to 15 days to make them and another 1 to 5 days to ship them out.
The storage capacity of the drives ranges from 64MB all the way up to 8GB. I think bigger is probably better when it comes to these drives, because a customer's more likely to find the custom USB drive useful if it has enough space to carry digital photos, music, important files from work and the like. I could foresee keeping an 8GB flash drive on my key chain so I had it available at all times.
This article was brought to you with the support of the sponsor.