ActiveCampaign Offers 1-2-All Email Marketing Software
By Publisher
Tuesday, July 14, 2009 at 12:31 PM
The software developer ActiveCampaign offers 1-2-All, email marketing software that can be used to create, manage and send email to thousands of customers and prospective leads.
The 1-2-All software, which is installed on your own web server, includes the source code so that your programmers can customize it to suit your particular needs. Features include autoresponders, custom subscription forms and real-time graphical statistical reporting.
1-2-All also can be configured to control how fast outgoing mail is delivered. Though mail can be sent as quickly as 10,000 emails per minute, the company has found that its customers "can experience better results by sending out your mailings in a moderate sending speed."
The software has no monthly fees and licenses begin at $229. Additional options priced from $89 to $97 can be used to test your mail against spam filters, divide a mailing into multiple groups to try different approaches, and send mail whenever a weblog or RSS feed has been updated. Support is free for the first three months, after which paid support subscriptions are available.
Cosmin Ghiurau, a social media consultant, said that 1-2-All is "by far the most robust and complete email marketing tool on the Internet. We have tested and used many other email marketing solutions since 1997 and 1-2-All is by far the best."
1-2-All can run on any Linux or Windows server that supports PHP 4.3 or higher and MySQL 3.23 or higher. Some features require the ability to set a cronjob (on Linux) or a scheduled task (on Windows). An online demo is available to give the software a spin.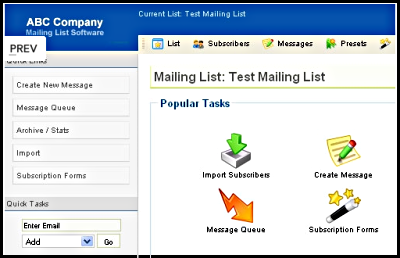 This article was brought to you with the support of the sponsor