UK Dental Care 'Most Expensive in Europe'
By Publisher
Wednesday, July 15, 2009 at 12:09 PM
"With UK dentistry the most expensive in Europe, it pays to shop around for a good value private health insurance policy for dental health, especially for those on a lower income who often find themselves bearing the brunt of the dental crisis." That's the advice of Brian Mulreanny, the managing director of the health insurance firm Essential Healthcare.
The web site Dentalbuddy.co.uk can help you shop around with up-to-date information, news and plan reviews that UK residents can use to find the best dental insurance deal.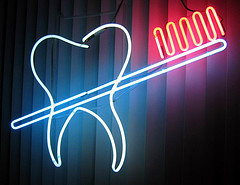 The site is a free dental insurance comparison service where people can can evaluate insurance plans and read about providers.
A huge spectrum of treatments are offered by the National Health Service (NHS) and private dental practices, as the site describes. Many private treatments cost more than double what it takes to pay an NHS dentist, but often people are forced to seek a private practice because of long waiting lists to see an NHS practitioner. This makes dental treatments more costly.
Since the introduction of public dental care, patients have paid an increasing amount of the costs over time. Today, except for pregnant women, children and people on benefits, people in the UK pay approximately 80 percent of the total cost of their dental treatment.
If you find it difficult to afford all the costs of a treatment, you should consider an insurance policy that reduces your dental costs to as low as a few pounds each week.
DentalBuddy.co.uk rates plans on five criteria: price, whether checkups and fillings are covered, whether diseases and emergencies are covered, and the additional benefits available. Plans are given a rating of from 1 to 5 stars.
As you research the issue, the site publishes a news feed in the RSS format that you can read in software such as Google Reader or Bloglines.
The photo was taken by Get Directly Down and is available under a Creative Commons License. This article was brought to you with the support of the sponsor